Peel Subaru
Establishment and car dealer at 16 Panton Road, Mandurah, WA 6210, Australia. Here you will find detailed information about Peel Subaru: address, phone, fax, opening hours, customer reviews, photos, directions and more.
Opening hours
| | |
| --- | --- |
| Monday | 08:00am — 06:00pm |
| Tuesday | 08:00am — 06:00pm |
| Wednesday | 08:00am — 07:00pm |
| Thursday | 08:00am — 06:00pm |
| Friday | 08:00am — 06:00pm |
| Saturday | 08:00am — 12:00pm |
Photos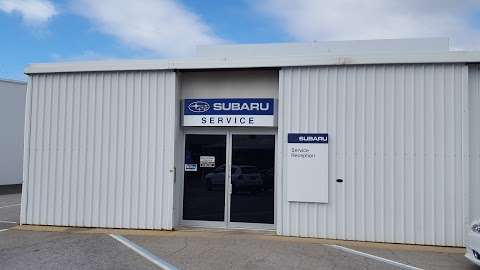 Reviews of Peel Subaru
Mrs Sandy T Added July 02, 2021

★ ★ ★ ★ ★

I recently purchased an XV and must say a big thanks to Jason and the staff who made the whole experience enjoyable. They are friendly and professional on all levels. The car is AWESOME!

Sophie Johns Added June 25, 2021

★ ★ ★ ★ ★

We purchased a car through Jason 5 years ago. So when the time came to upgrade our current car, there was no reason not to go back. The move onto Pinjarra Rd was also beneficial when looking at comparisons.
Jason has exceptional Subaru knowledge and is friendly and approachable. Richard in finance provided updates regularly, and made the finance application an easy process.
We picked our car up less than a week after signing the COS and that included the Easter break, which was great!
The pick up process could of been tweaked just a little, but I did have my 1 year old with me so anything not done within 10 minutes can be challenging (which isn't possible when running throught the cars features etc).
All in all a great experience with Peel Subaru and will not hesitate in referring family and friends to you when looking for a car. See you in a few weeks for our 1000km check up!

JUDITH PURCELL Added June 21, 2021

★ ★ ★ ★ ★

Very professional and friendly service. No hard sell from our salesman Jason....he understood our needs and answered all our queries. The best car purchasing experience I've ever had.

Valmae Haneveld Added June 17, 2021

★ ★ ★ ★ ★

Purchased my XV a few months ago, haven't looked back! Great car, great team both in sales and service- would highly recommend anyone go there if you're looking for an honest, friendly experience. Thanks Graeme, Nigel & Meri-ann

A Scott Added June 12, 2021

★ ★ ★ ★ ★

We purchased our first Subaru Forester from Subaru Mandurah. We cannot speak highly enough of the staff and the assistance we received from ordering the vehicle right up to delivery. It was seamless, they kept us informed of the vehicles progress from the factory to the sales floor. Just the best, friendly fast efficient service. 5 stars isn't enough. Thank you all. Adrian and Alison.
Questions & Answers
1. What is the phone number for Peel Subaru
The phone number for Peel Subaru is +61 8 6220 7528.
2. Where is Peel Subaru located?
Peel Subaru is located at 16 Panton Road Mandurah, WA 6210.
3. Is there a primary contact for Peel Subaru
You can contact Peel Subaru by phone using number +61 8 6220 7528.
4. What is the web address (URL) for Peel Subaru
The website for Peel Subaru is peelsubaru.com.au.
Share this page
Additional actions
Today's weather in Mandurah WA
13:00
11 ℃ 1028 hPa 77 % 2 m/s 16:00
14 ℃ 1026 hPa 69 % 2 m/s 19:00
15 ℃ 1025 hPa 70 % 3 m/s 22:00
12 ℃ 1027 hPa 75 % 4 m/s
Tomorrow's weather in Mandurah WA
01:00
11 ℃ 1026 hPa 75 % 3 m/s 04:00
10 ℃ 1025 hPa 79 % 4 m/s 07:00
10 ℃ 1023 hPa 84 % 5 m/s 10:00
11 ℃ 1023 hPa 83 % 6 m/s 13:00
15 ℃ 1021 hPa 64 % 8 m/s 16:00
18 ℃ 1018 hPa 59 % 7 m/s 19:00
17 ℃ 1016 hPa 68 % 7 m/s 22:00
14 ℃ 1016 hPa 72 % 7 m/s