Bozzy Shade Blinds
Establishment and home goods store at 7/40 Pinjarra Road, Mandurah, WA 6210, Australia. Here you will find detailed information about Bozzy Shade Blinds: address, phone, fax, opening hours, customer reviews, photos, directions and more.
Opening hours
| | |
| --- | --- |
| Tuesday | 10:00am — 02:00pm |
| Wednesday | 10:00am — 02:00pm |
| Thursday | 10:00am — 02:00pm |
| Friday | 10:00am — 02:00pm |
| Saturday | 10:00am — 02:00pm |
Rating
5 /5
Based on 1 reviews
Photos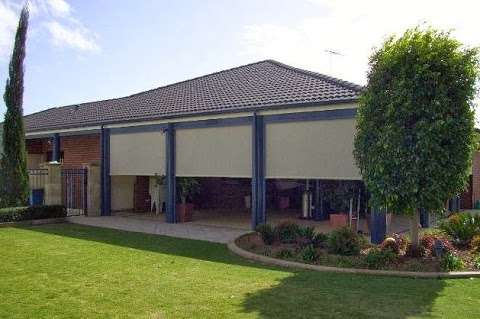 Reviews of Bozzy Shade Blinds
Brian Moore Added March 30, 2023

★ ★ ★ ★ ★

We had Bozzy Blinds Busselton measure and install over 10 blinds at our house. The professionalism of Bob and his fitters was impressive, not to mention of course the quality of the blinds! Would, and have recommended them to others who have commented on our blinds.

Brendan Walsh Added March 25, 2023

★ ★ ★ ★ ★

We were recommended Bozzy by friends who had shade sails installed and after seeing one of their roof systems installed at Bistro 21 cafe in South Fremantle we had to have one!

Steve (salesman) was a pleasure to deal with, he visited us at home and went through the design, fabric options, colours etc. It was very clear he knew his products and had been with the company a long time.
Our roof system is 35m2 in size and required 3 posts to be installed. The installers managed to get everything up in a day and came back the following day to complete the finals tasks. No problems with the install.

Every time we have friends and family over they all can't believe how cool our roof system is :) Taking into consideration the roof is waterproof and rated to handle winds up to 120kmh I believe we chose the perfect product to cover our new deck.
Thank you Bozzy for providing such an amazing product with a friendly service.

Fiona Lupica Added March 15, 2023

★ ★ ★ ★ ★

Thanks to Bozzy for our outdoor motorised blinds in our alfresco area they look great. The guys were so helpful in helping us select the colour and style. The fit is perfect and the installation went perfect. Very happy with the end result. Highly recommend you to all family and friends.

harry van wees Added March 03, 2023

★ ★ ★ ★ ★

Thank you Bozzy Shade Blinds, great customer service and excellent communication. Installation was very professional and on time. We are very satisfied with the finished product and have no reservation in recommending Bozzy Blinds to resolve any shade issue.

Rhonda Canfell Added February 02, 2018

★ ★ ★ ★ ★

Iam so happy with my outdoor blind the service was excellent from Quote to installation. Tammy was a pleasure to deal with. Very helpful I would highly recommend Bozzy Blinds.
Questions & Answers
1. What is the phone number for Bozzy Shade Blinds
The phone number for Bozzy Shade Blinds is +61 410 436 090.
2. Where is Bozzy Shade Blinds located?
Bozzy Shade Blinds is located at 7/40 Pinjarra Road Mandurah, WA 6210.
3. Is there a primary contact for Bozzy Shade Blinds
You can contact Bozzy Shade Blinds by phone using number +61 410 436 090.
4. What is the web address (URL) for Bozzy Shade Blinds
The website for Bozzy Shade Blinds is bozzy.com.au.
Share this page
Additional actions
Today's weather in Mandurah WA
13:00
17 ℃ 1013 hPa 83 % 8 m/s 16:00
18 ℃ 1012 hPa 77 % 9 m/s 19:00
18 ℃ 1013 hPa 79 % 9 m/s 22:00
18 ℃ 1014 hPa 77 % 9 m/s
Tomorrow's weather in Mandurah WA
01:00
18 ℃ 1014 hPa 76 % 7 m/s 04:00
18 ℃ 1013 hPa 76 % 5 m/s 07:00
17 ℃ 1013 hPa 79 % 6 m/s 10:00
18 ℃ 1014 hPa 74 % 6 m/s 13:00
23 ℃ 1014 hPa 63 % 5 m/s 16:00
24 ℃ 1011 hPa 59 % 5 m/s 19:00
24 ℃ 1012 hPa 60 % 6 m/s 22:00
20 ℃ 1013 hPa 71 % 4 m/s